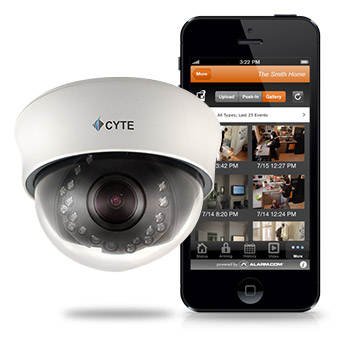 Commercial Video Surveillance
Do you know what goes on in your place of business while you're away?
As a business owner, it's extremely important for you to be able to keep an eye on your business at all times, even when you're not there. A video surveillance system can help you monitor your business to keep your employees safe, prevent losses and save money.
Benefits of a video surveillance system include:
Knowing who's coming and going - a timestamped video record of every person who enters and leaves your building is a valuable tool in the event of any crime or legal dispute
Monitoring employee activity - keeping an eye on employees ensures higher productivity and less idle time
Preventing frivolous lawsuits - a clear, recorded video of the activity in your place of business can help defend you against false claims of injury or other wrongdoing
Preventing losses: According to a recent study by inventory management company Checkpoint, Inc., employee theft accounts for approximately 43% of all retail losses, and shoplifting in general costs U.S. retailers approximately $42 billion annually. By keeping a closer eye on your assets, you can protect your inventory from theft and damage.
We also offer DVRs to record your business's surveillance, including
:
NuVis NVR 4P4 – DVR for standard cameras ( this is for IP cameras )
HD-TVI DVR- For HD cameras, offers more channels and recording space. Works with any of the 212 camera models we offer. ( This is a tri-bred DVR so we can add your older analog cameras new HD and also IP high Mega Pixel cameras for large outdoor areas.)