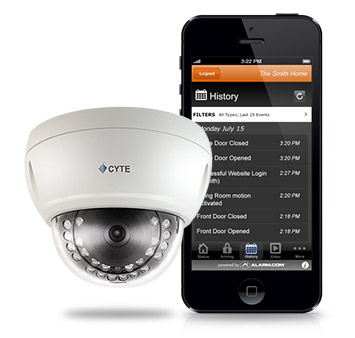 Residential Security
According to the FBI, approximately 2.1 million homes are burglarized per year. Would your family be protected if your home was one of them?
BIT specializes in offering customized security solutions tailored to the specific needs of your home.
We offer fast, dedicated and secure cellular communication which provides safe and reliable uninterrupted protection – even if the phone, internet or broadband is down. No landline is required.
In the event of a power outage, your system will continue to operate on backup battery power for 24 hours, keeping your home secure.
Our cellular communication is safe for critical security messages – not shared with internet, entertainment or phone lines.
Mobile App: Stay in control of your system at all times. Our top-rated, easy-to-use mobile app puts your home in your hands. You can arm and disarm your system remotely, and check the arming status at any time.
Instant Alerts: Get real-time notifications by text or email to let you know what's happening at home, the moment it happens. Choose to receive alerts via text, push notification, email or phone call.
Personalized User Codes: Create unique user codes for your family members and visitors, so you can know who's coming and going, and who armed or disarmed the system. Enable or disable codes at any time.
History: Look back at activity over time or search for specific events. With our always-aware sensors and searchable event history, you can review any activity by sensor, type of event, date or time.