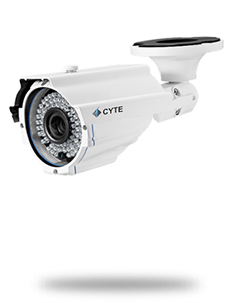 Video Cameras
Are you able to see what goes on in your place of business, even when you're not there?
BIT offers a variety of high-quality video cameras that allow you to see and record the activities inside and around your business. We offer the additional option of installing microphones along with the cameras, allowing you to see and hear the activity and giving you a more complete picture of what goes on in your business while you're away.
Our cameras can be connected to multiple hard drives, allowing you to record video for as long as necessary. We also offer financing on camera systems with different financing plans available through Marlin Business Bank.
Camera models we offer include:
TV212WIR72(W) - outdoor bullet-style camera
TV212VIR - HD1080P TVI (Turbo Video Interface) Varifocal IR Vandal Dome Camera. Features: Image Sensor-Outdoor Vandal Resistant Dome, True Day/Night-2.8~12mm 2 MegaPixel Lens-30 IR LEDs (100ft), DNR-IP66 weatherproof and DWDR.
TV220X - HD-TVI 1080P, 20x Optical Zoom, 300ft IRs, the latest "dot" infrared light, Speed PTZ dome with full function-360˚ endless rotation, Preset/Scan/Pattern/Tour, True Day & Night
TV212WIR72 - outdoor bullet-style, Sony 1080 Image Sensor, True Day/Night -2.8~12mm 2 MegaPixel Lens, 72 IR LEDs (200ft), DWDR, DEFOG -IP66 weatherproof
TV210XD- a smaller version of the TV210X, suitable for businesses such as funeral homes that offer remote viewing of funeral services. Also equipped with pan, tilt and zoom features.
212 DIR Indoor -Sony 1080 Image Sensor, HD TVI, AHD 1080P Video Output, True Day/Night, 2.8~12mm 2 MegaPixel Lens, 30 IR LEDs (100ft)
We also offer DVRs to record your business's surveillance, including:
NuVis NVR 4P4 – DVR for standard cameras
HD-TVI DVR- For HD cameras, offers more channels and recording space. Works with any of the 212 camera models we offer.